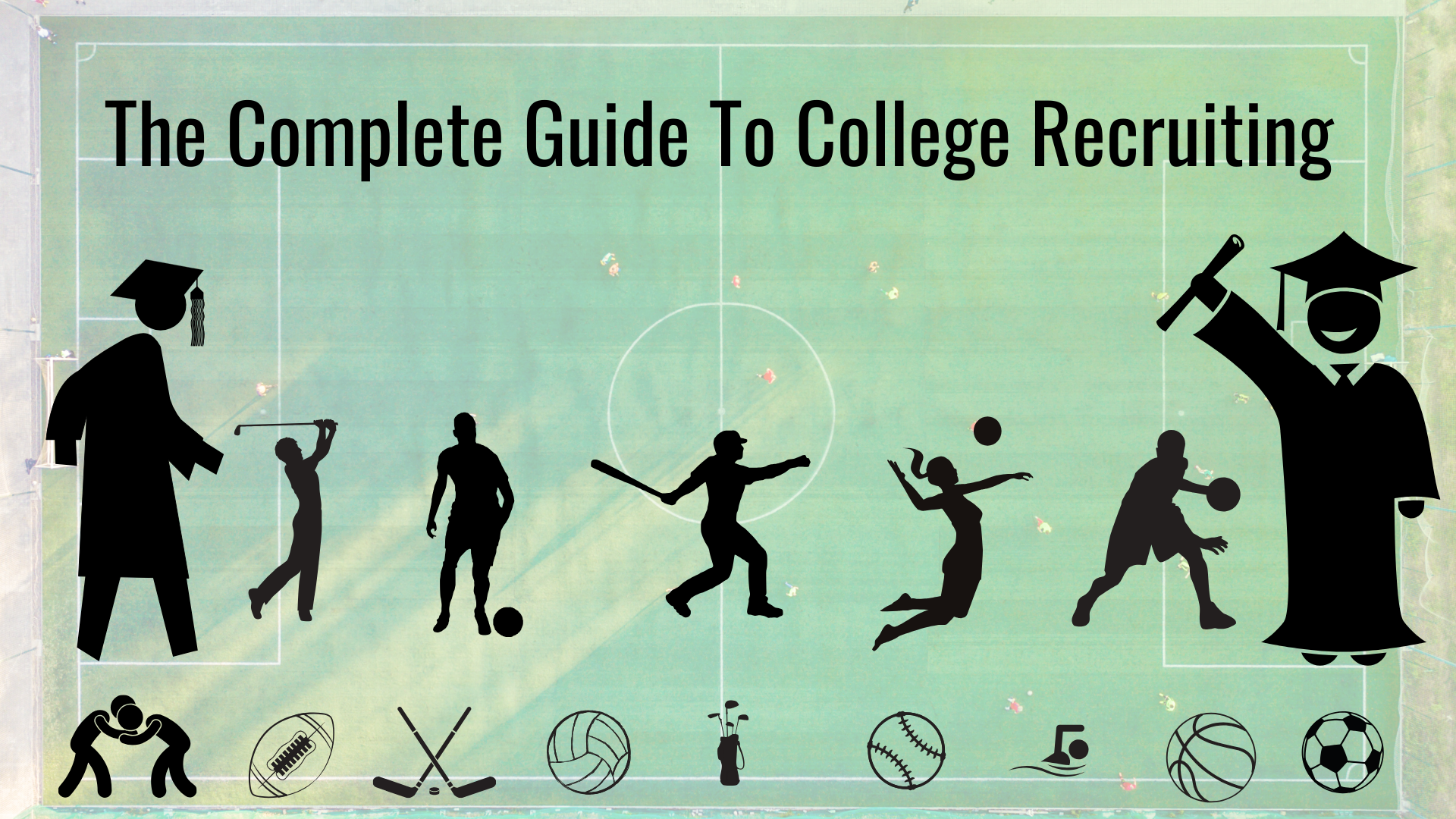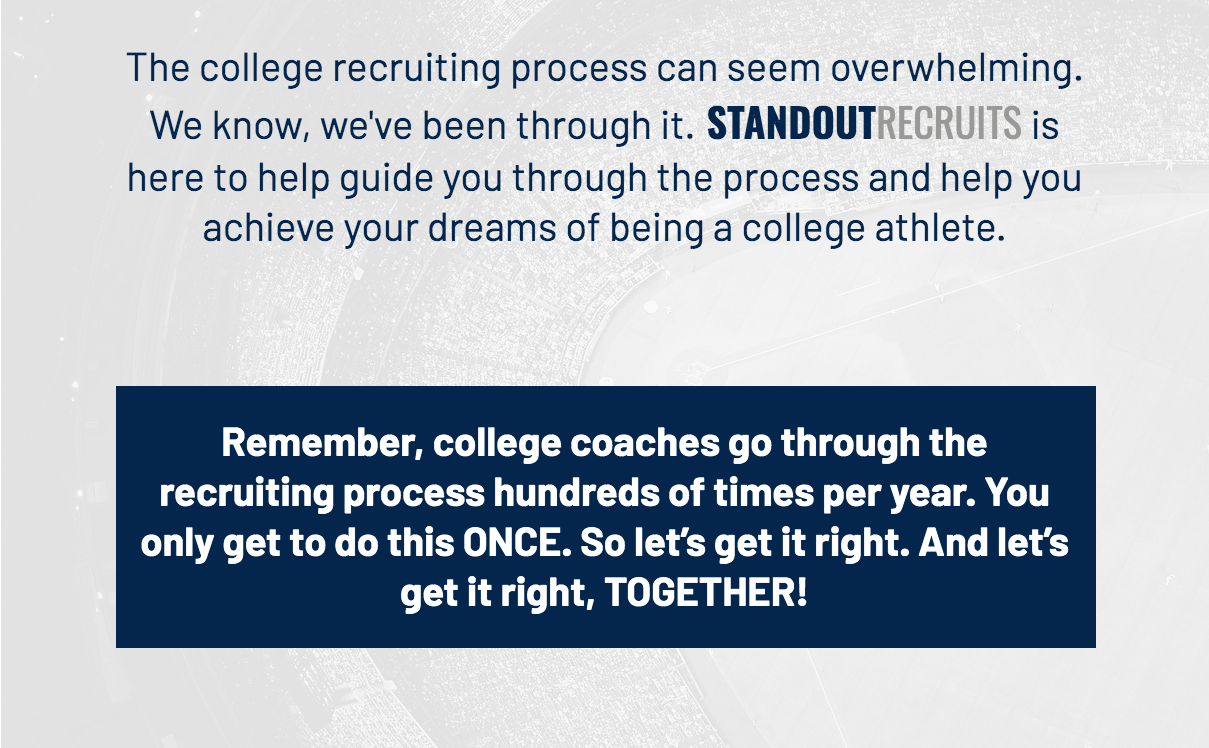 Is

StandOut

Recruits for you?
Are you a high school or middle school student-athlete that wants to continue their playing days into college?
YES
Are you a parent, guardian, relative, or friend of a young student-athlete that wants to play sports in college, and looking for a way to help them get there?
YES
Are you a coach that is looking for a way to help your players achieve their college playing dreams?
YES
StandOut Recruits is for everybody involved in the college recruiting process. If you or someone you know wants to fulfill their dream of becoming a college athlete....
STANDOUT RECRUITS IS FOR YOU!
There are hundreds of recruiting services that claim to connect high-school athletes to college coaches, advise student-athletes and their families about the college recruiting process, and provide student-athletes with the tools they need to get recruited. So what makes StandOut Recruits different?
It's simple.
StandOut Recruits provides YOU—the student-athlete—with the skills you need to take ownership of your own career as a college athlete and PROMOTE YOURSELF.
For most student-athletes, the first career you will ever have is as a college athlete. The skills you need to succeed at this career—including communicating with your boss (the coach) and marketing your skills and abilities—are essential to not only becoming a STAND OUT college athlete, but to succeeding at life in general. We are committed to setting our student-athletes up for success.
College coaches want to hear directly from YOU—the student-athlete! When choosing an athlete, coaches consider more than just a student-athlete's stats and GPA. Although those things demonstrate a student-athlete's aptitude for the technical skills of their sport, they only paint a partial picture of a well-rounded college athlete.

Coaches don't just want players who are talented—they want players who work hard and value teamwork. They want players who are motivated to hone their own skills and take ownership of their game. They want players who are responsible and respectful. At StandOut Recruits, we believe the best way to show a coach that you're the well-rounded athlete they're looking for is to tell—and show—them yourself.
Your Instructor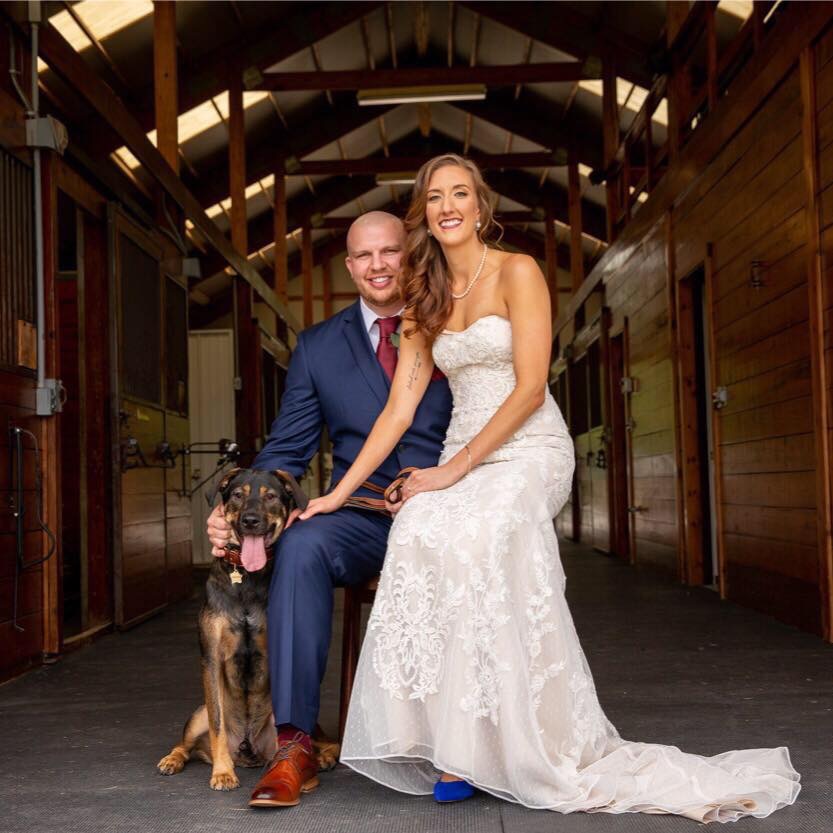 I'VE BEEN THERE. I've been that high school student-athlete that knew all I wanted to do was play ball in college. I also thought "If I play well, coaches will find me."
I grew to be 6'5", I was a Varsity starter as a Sophomore, I had a 3.5+ GPA and above average SAT and ACT scores. There was no way my mailbox wasn't going to get flooded with letters from coaches begging me to play at their school, right? ... RIGHT!?
WRONG!
I struggled to get any college coaches to show me attention. I even went to camps where coaches were, and played well! Still... crickets. I didn't realize then the steps that I actually had to take to really STAND OUT.
I wound up going to Old Dominion University, with the intent to walk on and then boom, torn ACL. Rehab. Torn MCL. Rehab. Torn patellar tendons. Playing career - Over.
BUT... It was meant to be this way. Because ever since then I knew exactly what I wanted to do, which is help the next wave of student athletes achieve THEIR dreams of being a college athlete. I joined several different "recruiting service" companies and learned some of the best (and worst) ways to get recruited. Then I decided to "go to the source." I asked college coaches exactly what they look for in recruits.

As a result, I created STANDOUT RECRUITS with proven methods teaching student-athletes (and their families) the skills to market themselves to college programs and coaches. Coaches don't want to hear from anyone else. They want to hear from YOU!
STANDOUT RECRUITS will teach you the exact strategy, step-by-step, of turning those dreams of being a college athlete into a reality!
I reside in Raleigh, North Carolina, with my wife, Marie, and our two dogs, Chance and Duke.
Course Curriculum
INTRODUCTION
Available in days
days after you enroll
RECRUITING 101
Available in days
days after you enroll
THE "PAPERWORK" STUFF
Available in days
days after you enroll
I've Heard That Before.
"I can do it on my own."
You most certainly can do this whole recruiting process on your own. The objective of this course is to condense everything into one place, and give you some advice from someone who's been through it! It took months to gather all of the information in this course. You can have it within minutes!
"This course is too expensive."
It's all about VALUE. The contents of this course are well over $1,500.00 and you can get it for the price of a pair of basketball shoes! Paying the price of a pair of basketball shoes to set up your dreams of playing collegiate sports sounds like a no brainer!